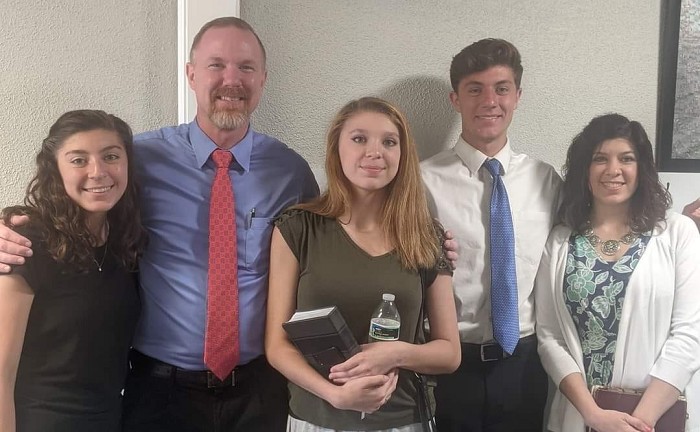 Greetings,
My name is Jason Goodman. I grew up in Louisville, KY. It was at Shawnee Baptist Church that I received Christ as my Saviour at the age of 16 and was called to preach that following summer at youth camp. I attended Bible college, graduating in 2000.
After college I moved back to Louisville and worked at Shawnee Baptist Church for a year and a half before transferring to work at Indian Creek Baptist Camp (a ministry of Shawnee). I helped run the camp from fall 2001 to fall 2011.
In 2011 God moved our family to middle TN where I worked as a youth pastor and Christian school teacher for 5 years. In this time I had several opportunities to preach in church services, and Christian school chapels (our school and a couple others in the area).
In the summer of 2016 we moved back to the Kentucky/Indiana area where I have been working for a Christian business man in his IT company. During this time we joined Calvary Road Baptist Church. Currently I teach an adult Sunday school class, drive a bus, serve on the deacon board and the security team. I also participate in the music ministry of our church, singing in the choir and special music, as well as leading the congregational singing from time to time.
Pastor Kleitz has graciously given me several opportunities to preach while he has been away and a few while he was in attendance. There are a few on this site if you would like to listen.
My desire is to share the lessons God teaches me with others and to be an encouragement where God will allow. I believe that one of the largest needs of our time is to preach and emphasize the authority of the scriptures. So much error and falsehood is promoted as fact and truth. If we don't know, and rightly divide the scriptures, we will be in grave danger of falling away.
With my work schedule, I am available for weekend opportunities as well as longer evening revival meetings if close enough for me to get there after work. You can reach me at
jcgoodman5@gmail.com
God bless you and your church.
Thanks,
Jason